Savok Calibration Laboratory, Pietarsaari, Finland
To provide recalibration services for a wide range of calibration products and different measurement signals, Savok has its own state-of-the-art calibration facility in Pietarsaari, Finland. The laboratory at the Savok campus is ISO 9001 certified (since 1992) and ISO 17025 accredited (since 1993) by FINAS (Finnish Accreditation Service).
The ISO 17025 certified calibration certificate contains valuable information about each individual calibrator, such as its measuring results, expanded uncertainty, deviation, specifications and assessment of compliance with the manufacturer's specifications.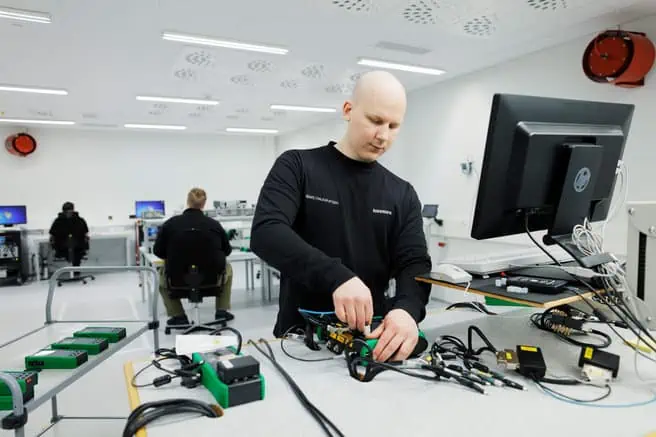 Savok Ghana 
At our dedicated calibration laboratory in Ghana, we provide NIST traceable calibrations and repairs. When you choose Savok as your calibration partner, you are in the best hands, with our experienced expert metrology staff and seasoned technicians.
Our recalibration and repair services are guaranteed to be of the highest quality in the industry. We pride ourselves on a fast turnaround to minimize disruption to your processes and our customer feedback continues to be excellent.
What's included in the Savok recalibration service?
Accredited calibration certificate.
Pass/fail results are indicated on the calibration certificate. The deviations are analyzed on your behalf.
If there are deviations, the calibrator is also adjusted (as-found/as-left results).
Calibration points are optimized for Beamex devices, to make sure that the device is thoroughly tested on all relevant ranges.
Drifts in accuracy will be noticed and countered with pre-emptive adjustments to ensure the continued accuracy of the device.
With an automated recalibration process, the turnaround is faster and less prone to human error.
Repair checks ensure that broken devices are not recalibrated until repaired.
Cleaning of the device.
Free firmware and DD (device description) updates.
Any warranty issues occurring during recalibration will be dealt with.